Applied Computer Science Group, Inc.
<![if !vml]>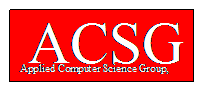 <![endif]>
Mission
To provide high quality system engineering, system architecture, and system development services and expertise to enable our government, commercial, and academic customers to solve today's most difficult technical challenges.
Background
Applied Computer Science Group (ACSG) was founded in 1981 in Southern California.  The company relocated to Maryland in 1986.  ACSG was incorporated in the state of Delaware in 1999.
Historically ACSG was a customized software development and consulting firm providing state of the art technology solutions in the areas of Artificial Intelligence, Object Oriented Analysis and Design, Multimedia Development, Internet and Information Technologies.  The company focused primarily on long term sub-contract services for systems engineering and software development to larger organizations implementing advanced technology solutions for defense and commercial industry.  ACSG's key advantage was the ability to rapidly understand the customer's needs and quickly develop comprehensive solutions to solve the most pressing challenges.  During the Internet Boom, the founder, Kendall White, saw the opportunity to increase the company's earning potential by bundling software solutions with best of breed hardware to create advanced technology applications.  This strategy worked well throughout the late 1990's and early 21st century as the company increased its revenues significantly.  With a proven track record and highly competent staff and partners, ACSG is continuing to enjoy success working with its government, commercial, and academic customers as a provider of IT consulting, system engineering, system architecture and software development services.
Core Competencies
System Architecture Design
System Engineering Services
Consulting, Systems Development, and Solution Deployment
Technical Education and Training
Contact Information
Applied Computer Science Group 7309 Quetzal Dr. Bowie, MD 20720 (301) 960-4178
System Architecture Development

DoD

AF
Distributed Object Management
Commercial Information Technology

Systems Engineering Services

Requirements Development
Systems Modeling using UML

Consulting, Systems Development, and Solution Deployment

Information Analysis
Knowledge Management
Information Technology

Electronic Commerce
Internet/Web Based Solutions

Multimedia Systems

Digital Content Creation
Virtual Reality Systems
Non-Linear/Digital Video Systems

Technical Education and Training

Decision Support Systems
Knowledge Management
Object Oriented Technology
Electronic Commerce
Multimedia